Trench Mental Art Produksyon's Universe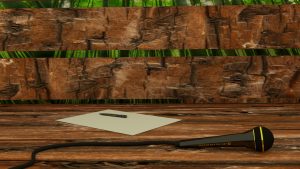 Trench Mental Art Produksyon: Your KaribAmazonian fashionizing Produksyon!
Trench Mental Produksyon is born from the passion that all arts are, precious and speaking in any's life, the necessity of fair, sensitive & original visual & auditive representations of the emergence of Guyano-Caribbean artists & the valorization of lokal, artistic, cultural works. Then from visual works to music records, Trench Mental Art Produksyon, passionate by KaribAmazon arts and artists, always precursory, diverse, talented, numbered but not enough heard, even though very competent artists merge from this regional place, has the ambition to sponsor speaking, figurative, talented artists of various universe, in-need to change all codes, all norms & reveal the beautiful wonder that dancehall, reggae, gwoka, kaséko, zouk, soca, trap, crunk, hip-hop, reggaeton, r'n'b are through different valuable, suitable & spiritual views!
-Valorize lokal & regional artists with original, out-normed universe having values transcribed in their lyrics and denoting about their goals and ambitions in objective attempt to change ameliorate & valorize people's minds, acts & lives
-Inspire courage & motivation to fight for passions
-Offer more chances to the less blood-inherited to be equally represented
-Revolutionize all codes, all norms to make an audience smile, enjoy music, feel relax, dream, think, do and act
-Develop an Art Akademy writing, recording, producing, realizing, distributing every kind of artistic works from soundtrack to cartoons, from ads to films… there rest our goals !
-Become An ArtAkademy producing soundtracks, video works,offering ad's service, films and cartoons' animations
-Become the Modern, Futuristic, Lokal & Artisanal Produksyon Institute to develop the
«Let Do It Ourselves» new policy
-Collect all types of Arts to advertise and valorize them
-Promote the most piece of Arts & lokal and regional artists
-Valorize & create a lokal fever, à lokal fashion; the «Be Yourself By Yourself» style
-Be the n°1 in lokal Produksyons
-Initiate youth & elders to use & valorize their talents & passions everyday & usefully
100% sponsored artists & Trench Mental Art Team members
Punctually sponsored artists by Trench Mental Art brand for a specific event
↓ Check our Productions on our YouTube channel ↓